San Diego Architecture: Spanish Colonial
---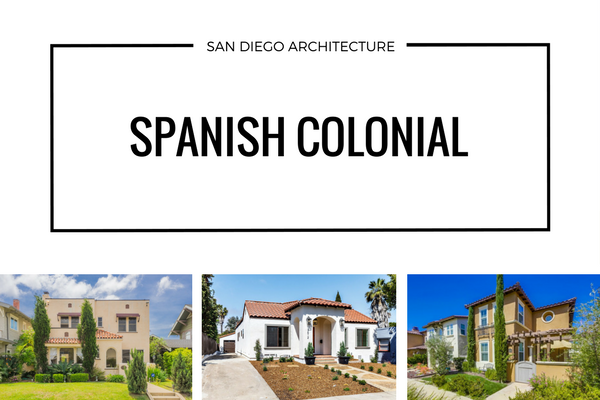 Here in San Diego there are many architectural styles including mid-century modern, Craftsman, and contemporary, but Spanish Colonial is one of the most popular and enduring.
The Spanish Colonial Home
A Spanish Colonial home is characteristically one with its environment, says Lisa Stacholy, of LKS Architects in Atlanta, Ga. The casual dwellings boast thick stuccoed walls, red tile roofs and enclosed courtyards that extend one's living space.
"This style dates back to the tail end of the Spanish Conquistadores," explains Stacholy. "It is what they knew how to build, and the style fit the environment."
As the style migrated throughout the then-Spanish territories, these homes began to veer away from the Spanish and Mexican originals. Today the term Spanish Colonial Revival is used to describe homes built in the early 20th century that incorporate various elements of Mediterranean architecture. But as with all true styles, these homes are linked by a set of common physical characteristics.
Built from indigenous components. Spanish Colonial homes might be made of adobe in the Southwest and coquina rock in Florida.
Thick, stucco-clad walls. Thick walls are ideally situated for a hot environment. "Thick walls absorb the day's heat and gently radiate it back into the building during the cool evenings," Stacholy says.
Small, open windows. Smaller windows, originally sealed by wrought iron grates rather than glass panes, are sited on the building to best capture breezes while avoiding the direct rays of the sun. Wooden shutters, when present, are traditionally mounted on the inside of the home.
One story. The Spanish Colonial is the ancestor of our ranch-style house.
Limited ornamentation. Ornamentation on these informal homes was often limited to arches on entranceways, principal windows and interior passageways. More elaborate homes might feature intricate stone or tile work, detailed chimney tops and square towers.
Wooden support beams. Wooden roof supports project out over the exterior walls in classic Spanish Colonials.
Inner courtyard. Historically, the courtyard let families move the cooking -- and its accompanying heat and steam -- outside. Today, these patios, porches and courtyards act as informal gathering spots for family, extended family and friends.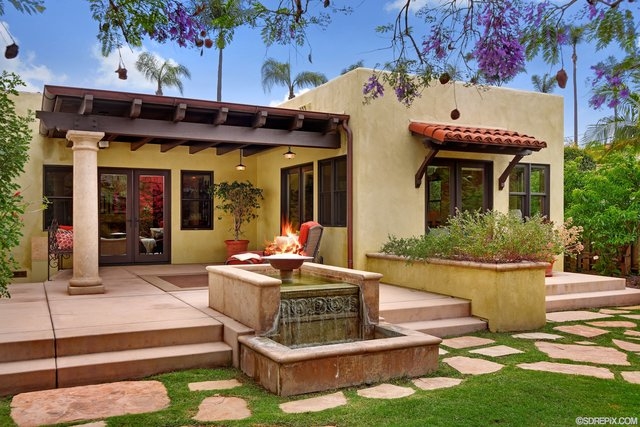 Built in 1934, this Kensington single story beauty features clean lines and a charming courtyard. See more details here.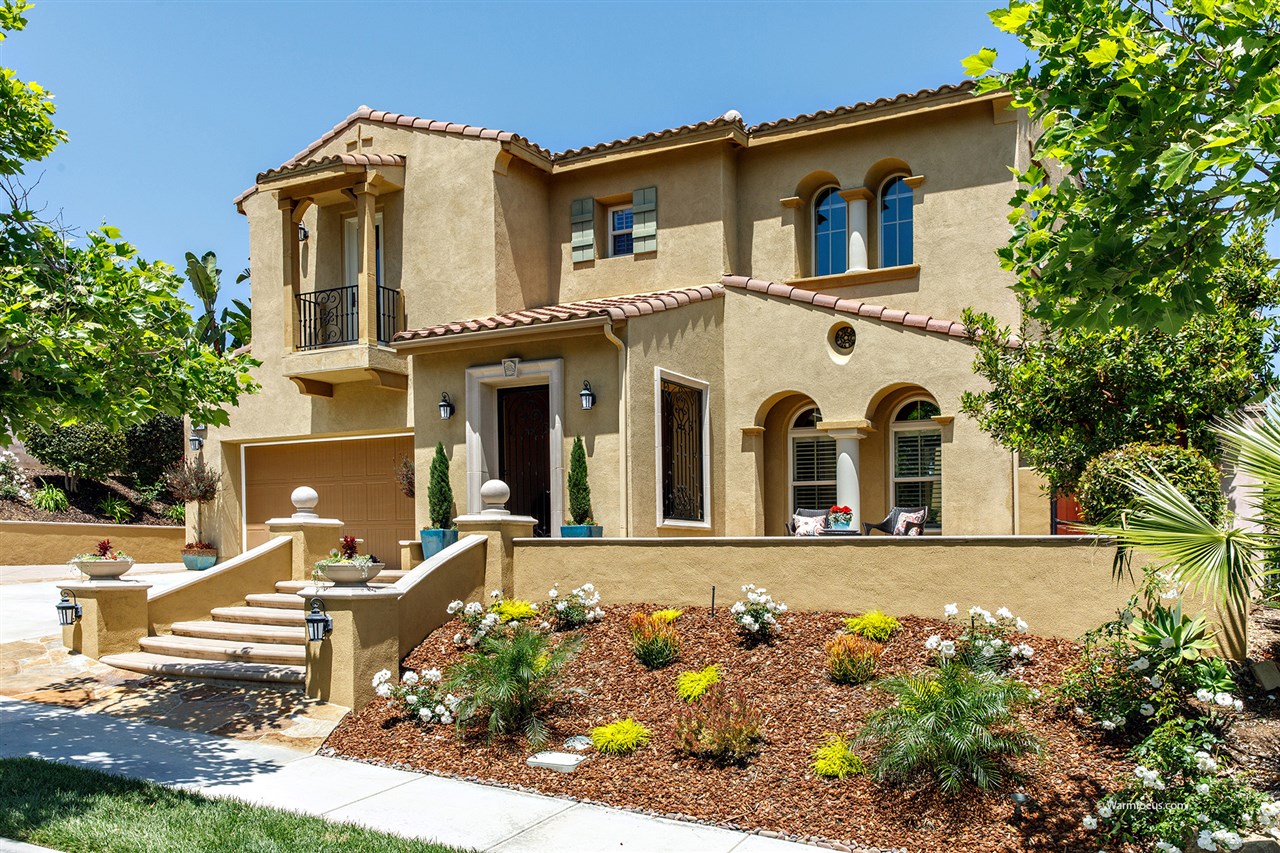 Many newer homes are built in the Spanish style, demonstrated here by this 2008 Carlsbad home in a gated community. It may be larger than many of the older Spanish Colonials, but it maintains the same characteristics. See more details here.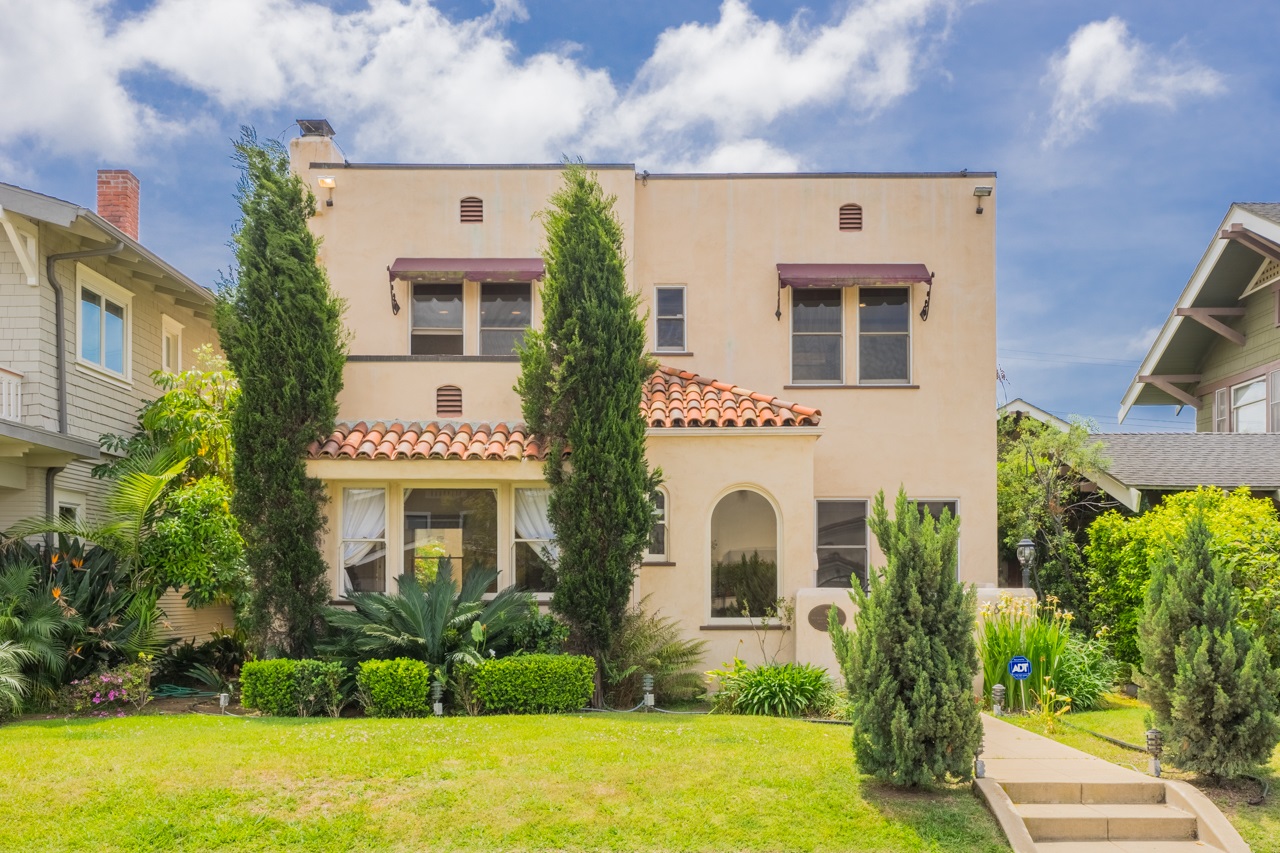 This 1925 Spanish Revival home in Mission Hills is a Mills Act property and even has a casita in back. See more details here.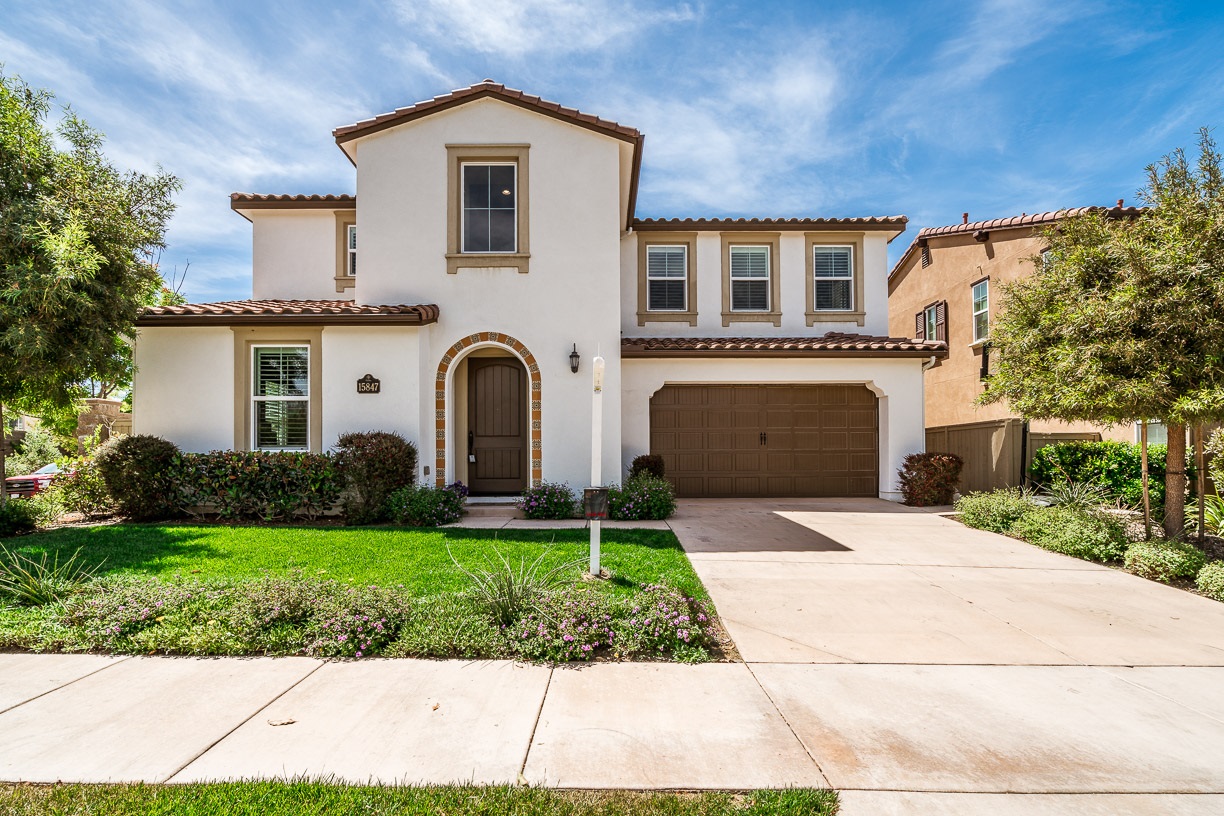 Built in 2012, this Rancho Bernardo home showcases beautiful tile work at the front entry and terra cotta roof tiles. See more details here.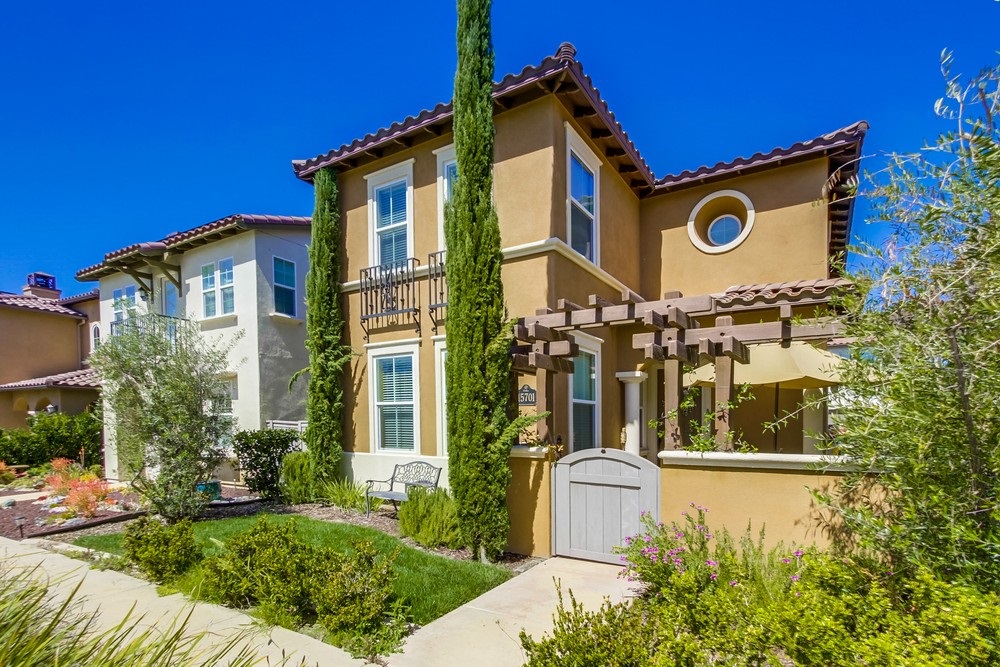 A private courtyard and wrought iron details make this Rancho Bernardo home, built in 2011, a great example of a modern home with Spanish Colonial architecture. See more details here.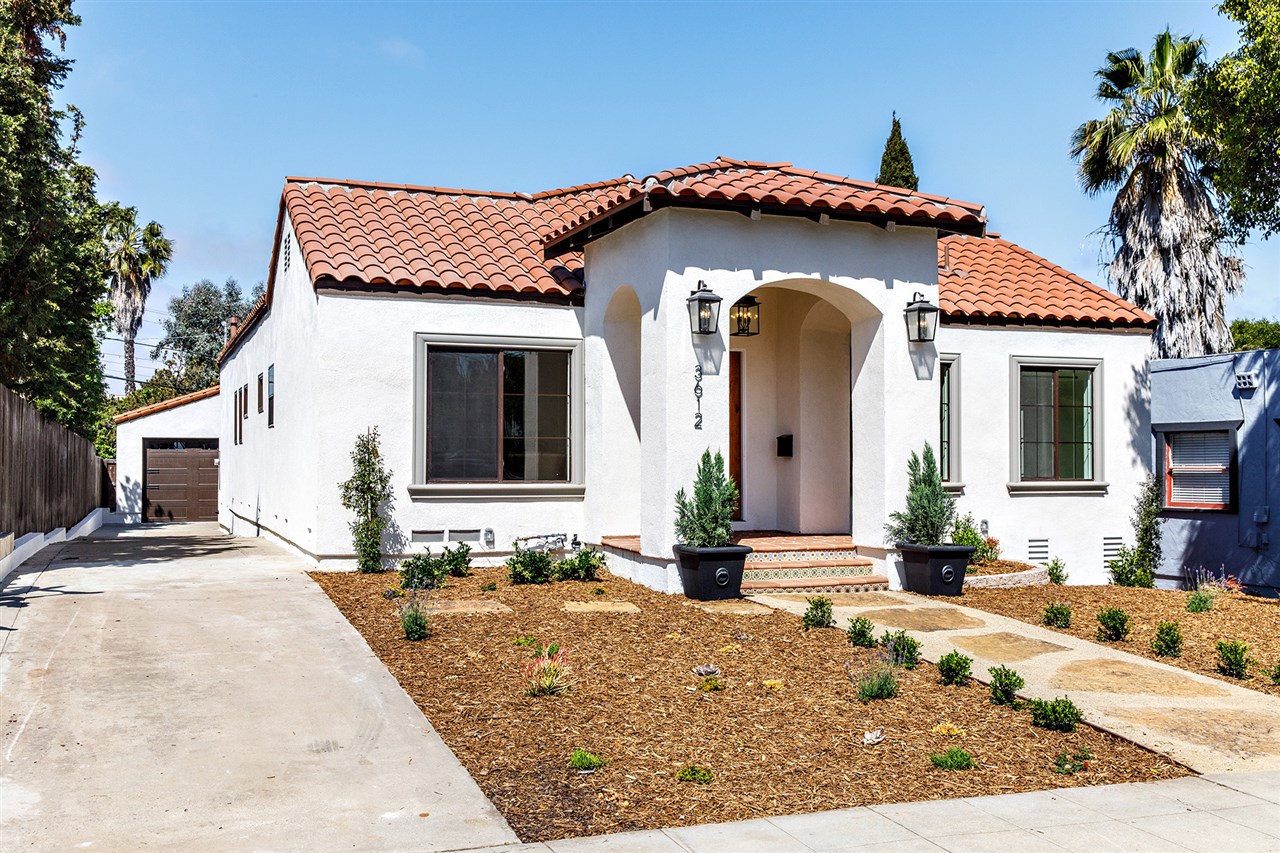 This North Park home, built in 1922, has been completely redone and expanded while maintaining the Spanish style and feel. See more details here.