San Diego Architecture: The Craftsman
---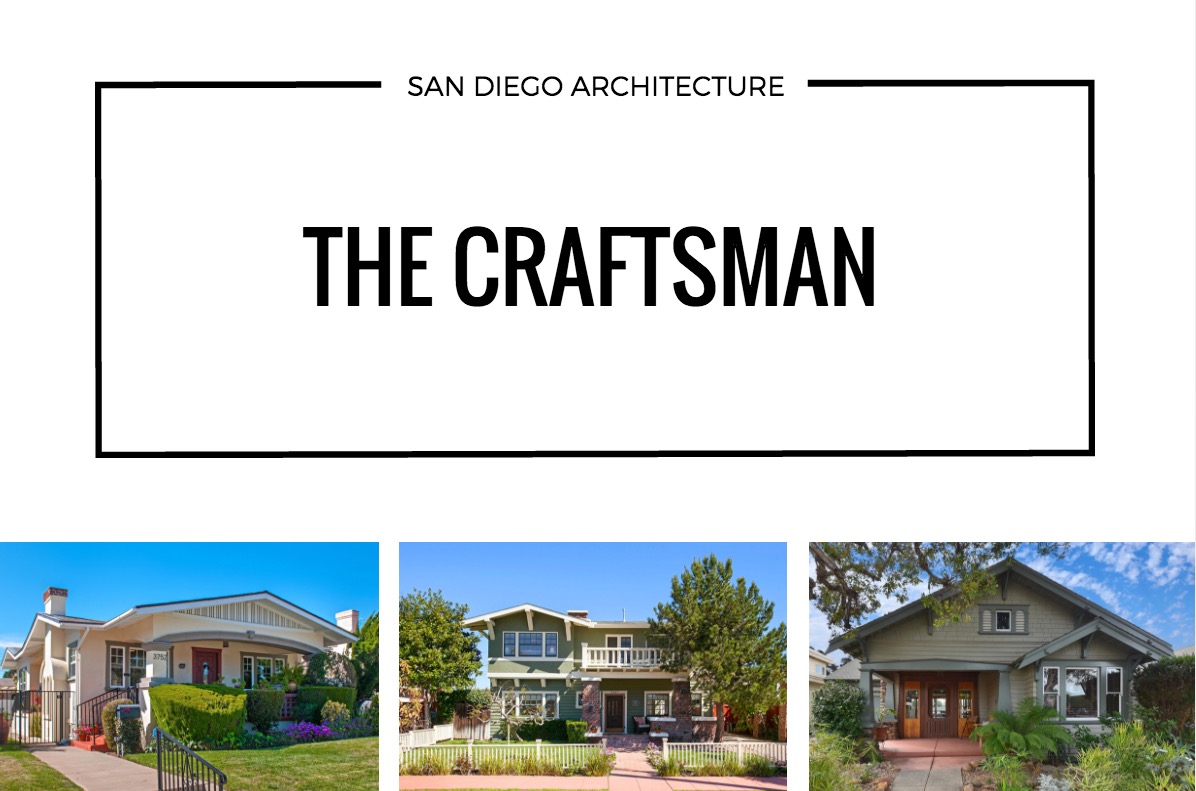 San Diego is home to many beautiful architectural styles including Spanish, Tudor, Contemporary, Ranch, and Cape Cod, but the Craftsman is one of the most appealing styles which has stood the test of time and is perfectly adapted for modern life.
The Craftsman Home
The Craftsman style is defined by its low-pitched gabled roofs with broad eaves, large front porches, and exposed wooden structural elements. Houses were typically 1-1½ stories and of wood construction. Homes designed by Greene & Greene include the spectacular Gamble House.
What most distinguished the Craftsman home was its philosophical foundation that was predicated on a more functional aesthetic, natural materials, and a greater degree of craftsmanship, which Art & Crafts proponents believed to be missing from the more ornate or traditional styles of the period. Arts and Crafts architects and designers believed that a return to a simpler, less pretentious style would lead to a healthier, more comfortable and productive life.
The Craftsman bungalow adapted the large porch and practical floor plan seen in earlier homes built by British colonists in India. The style proved incredibly popular and the bungalow style evolved into a simpler version for the broader market as building plan books and pre-cut home kits became available.
As a result, almost all Craftsman houses are bungalows, but not all bungalows are Craftsman style. The Craftsman style is distinguished by its many fine details and excellent workmanship.
General Characteristics
The typical Craftsman home usually has the following features:
Low-pitched roof
Deep eaves with exposed rafters
Decorative knee braces.
1–1½ stories
Built-in cabinetry
Large fireplace, often with built-in cabinetry on either side
Dormers
Large, covered front porches with massive, battered columns
Windows were typically double-hung with multiple lights in the upper window and a single pane in the lower
Many fine details including hammered metalwork in copper and bronze, and art tiles by notable American art potters like Batchelder, Grueby, Rookwood, and the Roycrofters.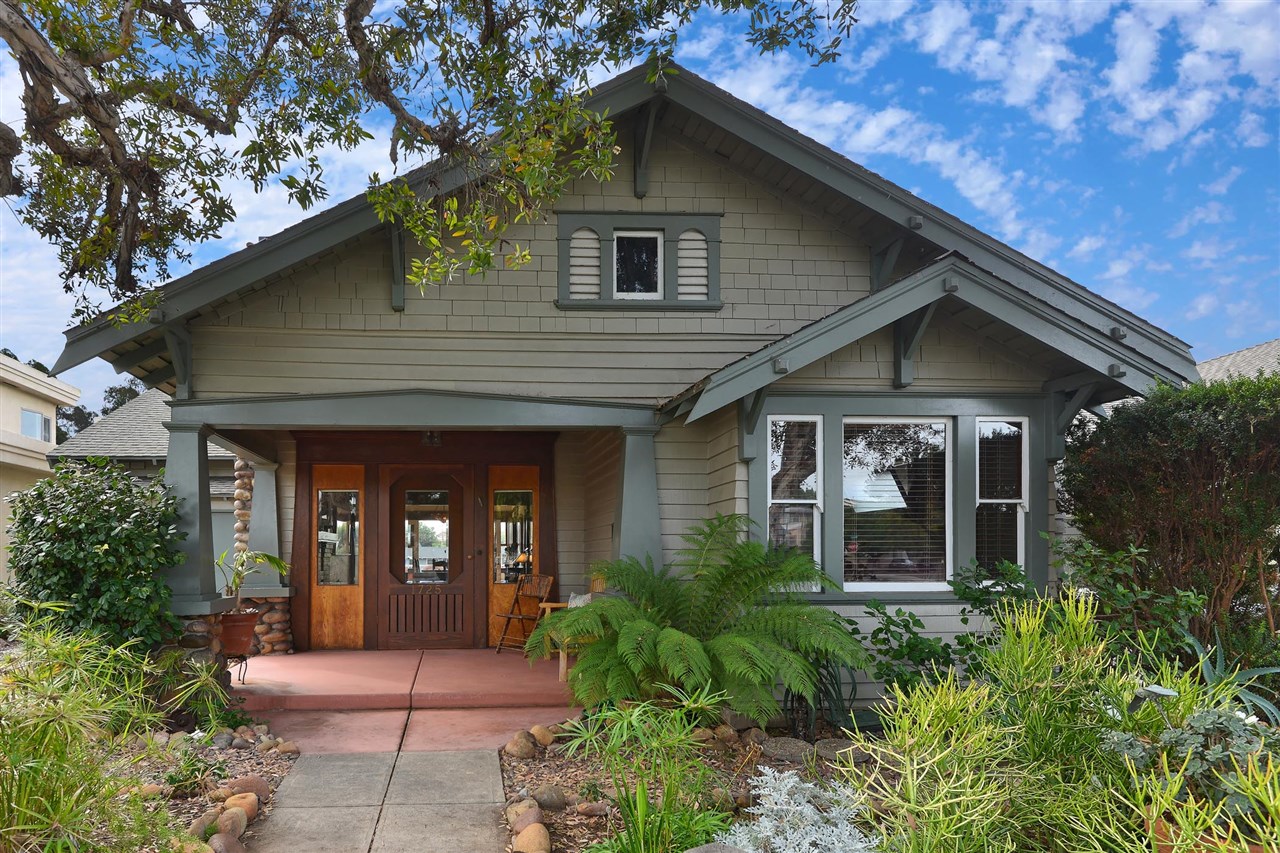 This classic Craftsman in Mission Hills was built in 1912, and has one of the most beautiful front doors! See more details here.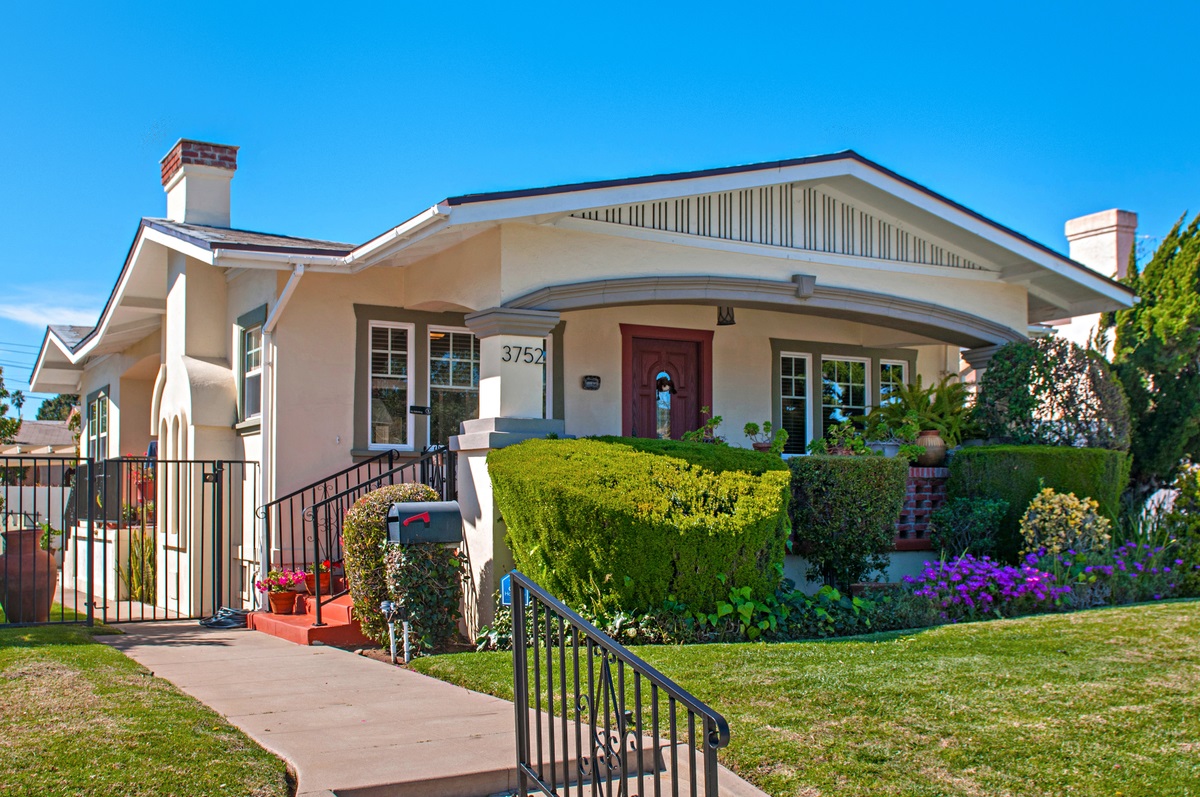 This Mission Hills home is a Craftsman dream with fantastic details like stained glass windows and an updated interior. See more details here.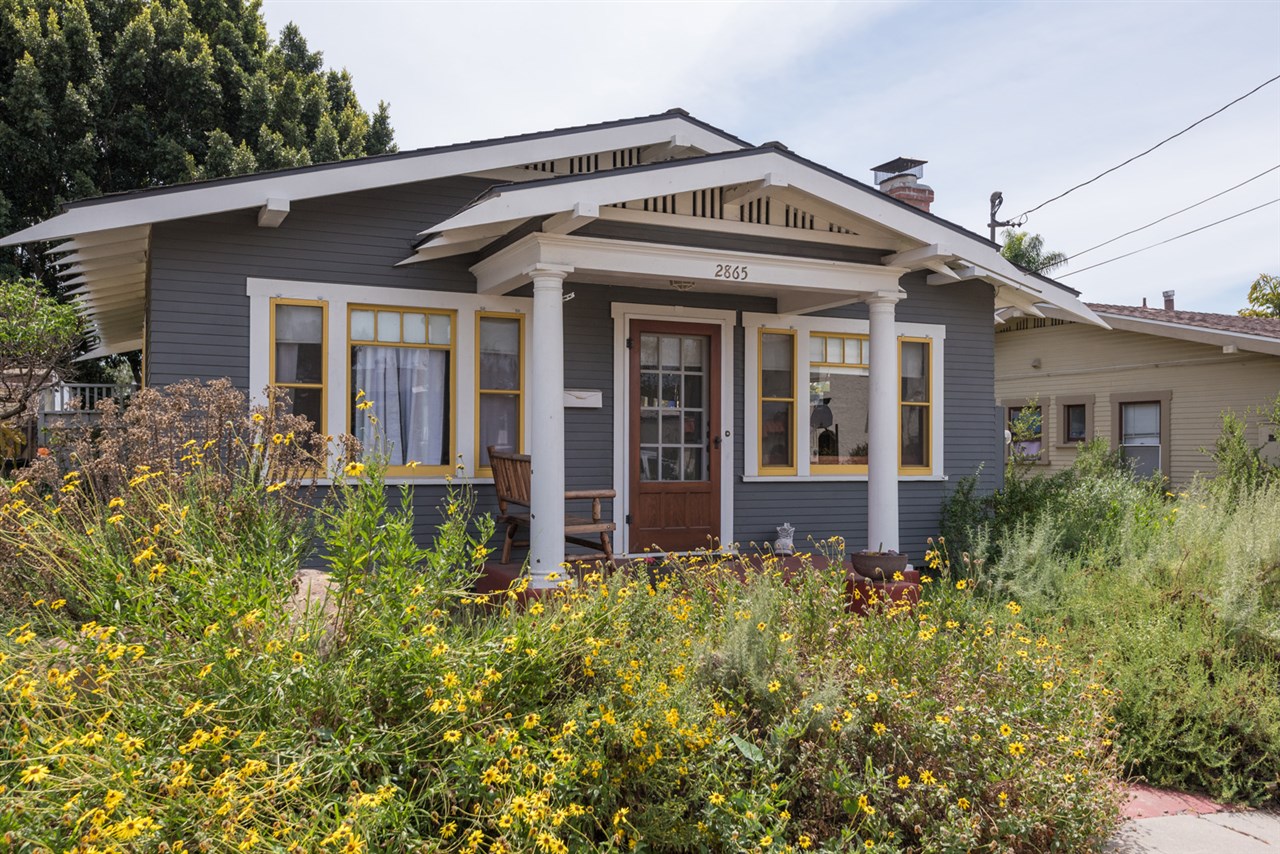 Located in South Park, this 1924 craftsman is a wonderful example of a California bungalow. See more details here.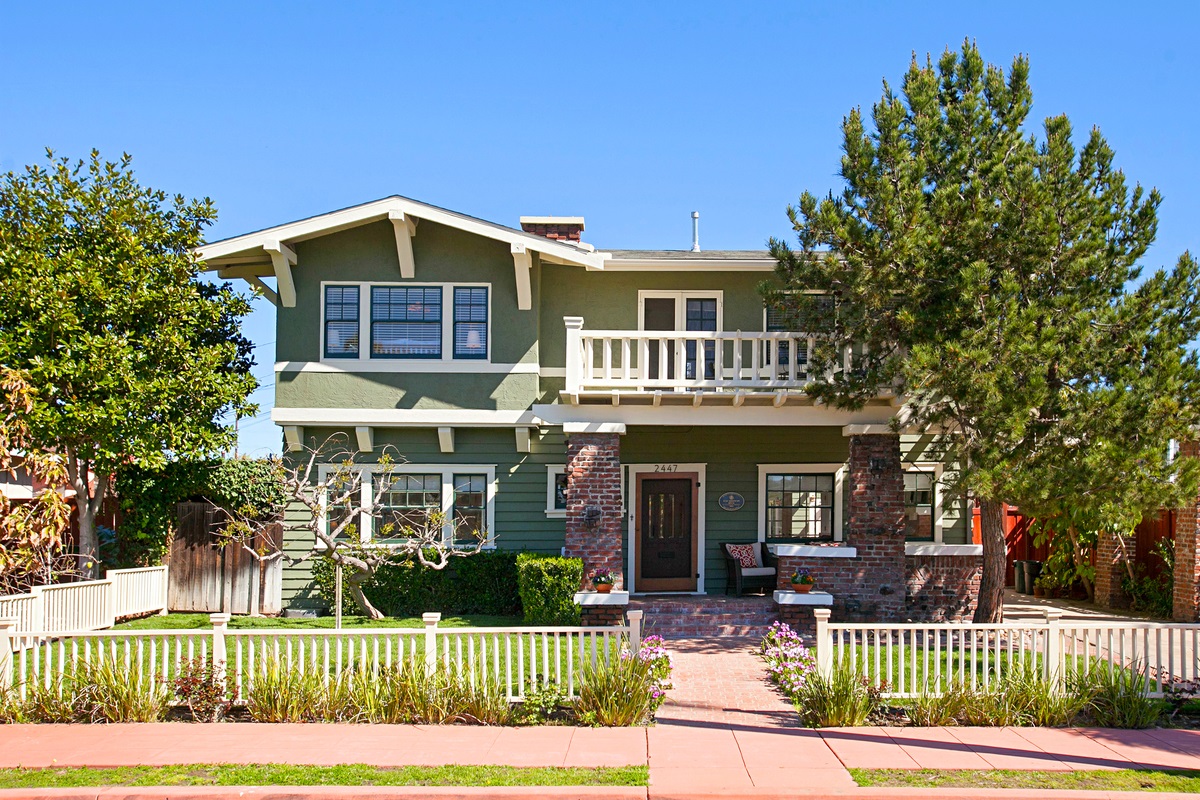 Built in 1912, this stunning South Park craftsman is an historic Mills Act home. See more details about this Arts and Crafts style beauty here.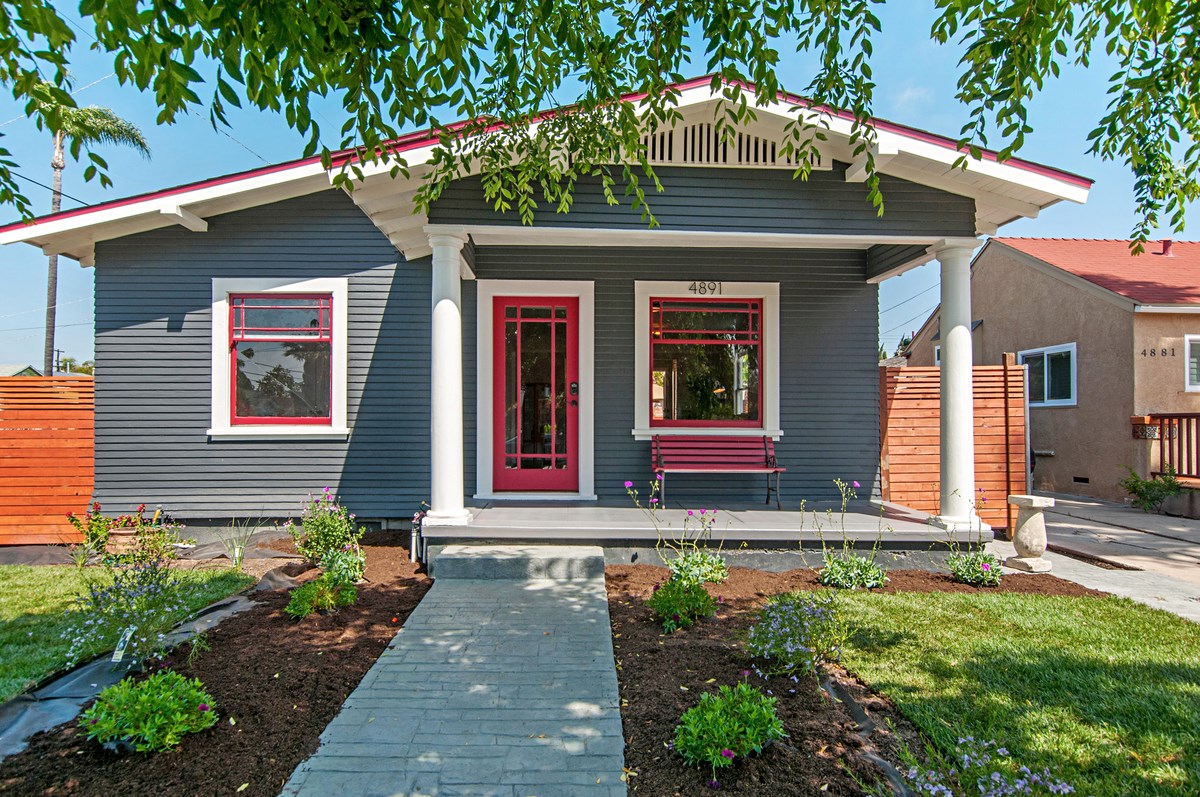 Asymmetry and attention to detail are on display in this 1925 Normal Heights Craftsman home, which has been beautifully updated inside. See more details here.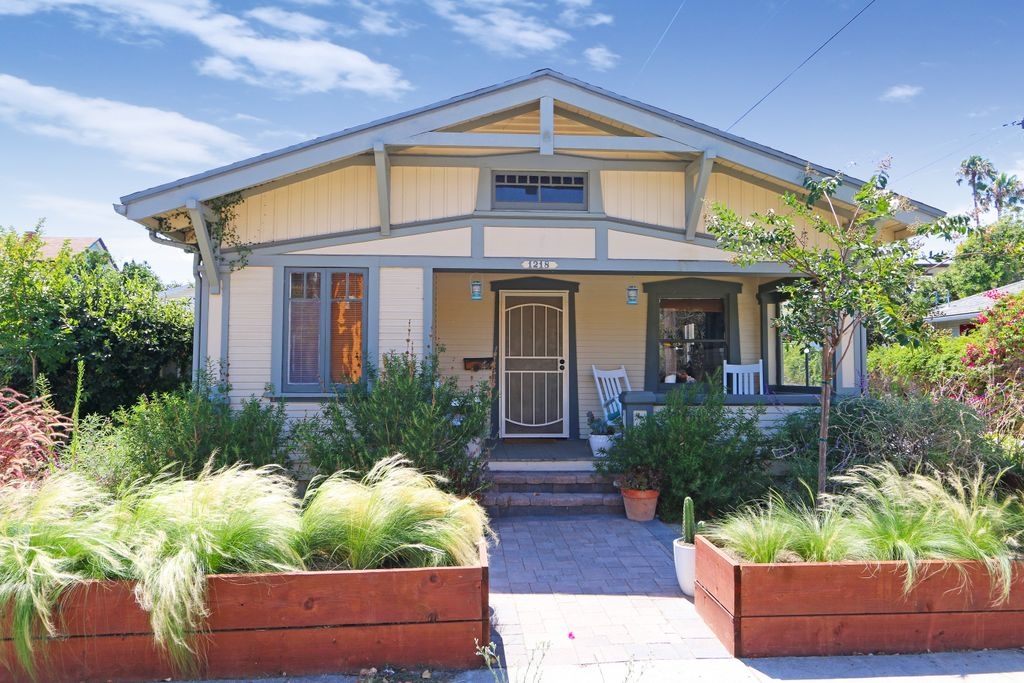 This Golden Hill craftsman was built in 1912, and features a covered front porch perfect for drinking your morning coffee. See more details here.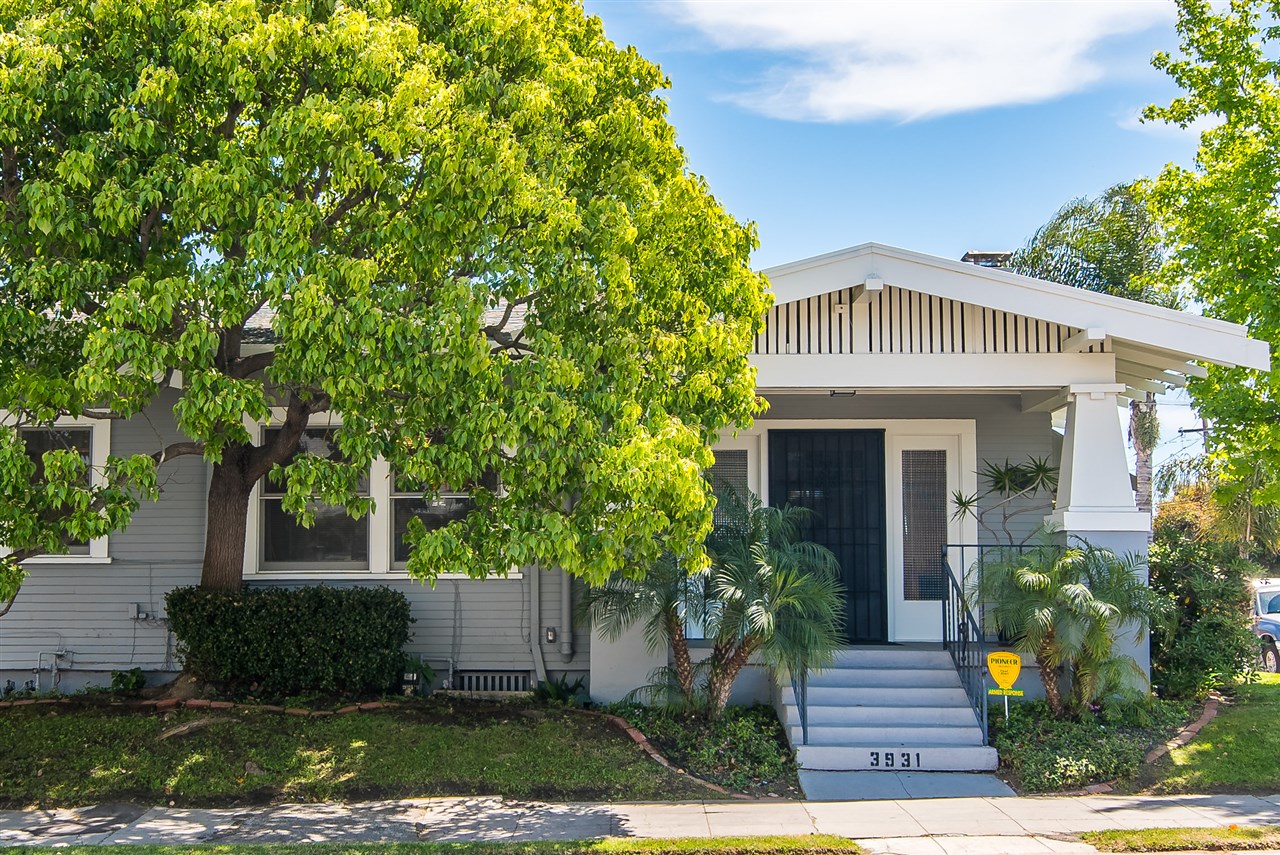 Located in Mission Hills, this darling craftsman bungalow was built in 1918 and features beautiful gumwood built-ins and a large, welcoming porch. See more details here.