GSFA Grant Program
---
Did you know that there is a California-wide program that gives you money to help purchase a home? The Golden State Finance Authority Platinum Program was created to help low-to-moderate income homebuyers in California purchase a home by providing down payment and/or closing cost assistance, currently in the form of a non-repayable grant.
Since it began in 2010, GSFA Platinum has helped 16,800 people purchase homes, providing more than $135.5 million in grants.
Here in San Diego you may qualify if you make less than $84,525 for a VA, FHA, or USDA mortgage, or less than $117,600 for a Freddie Mac mortgage.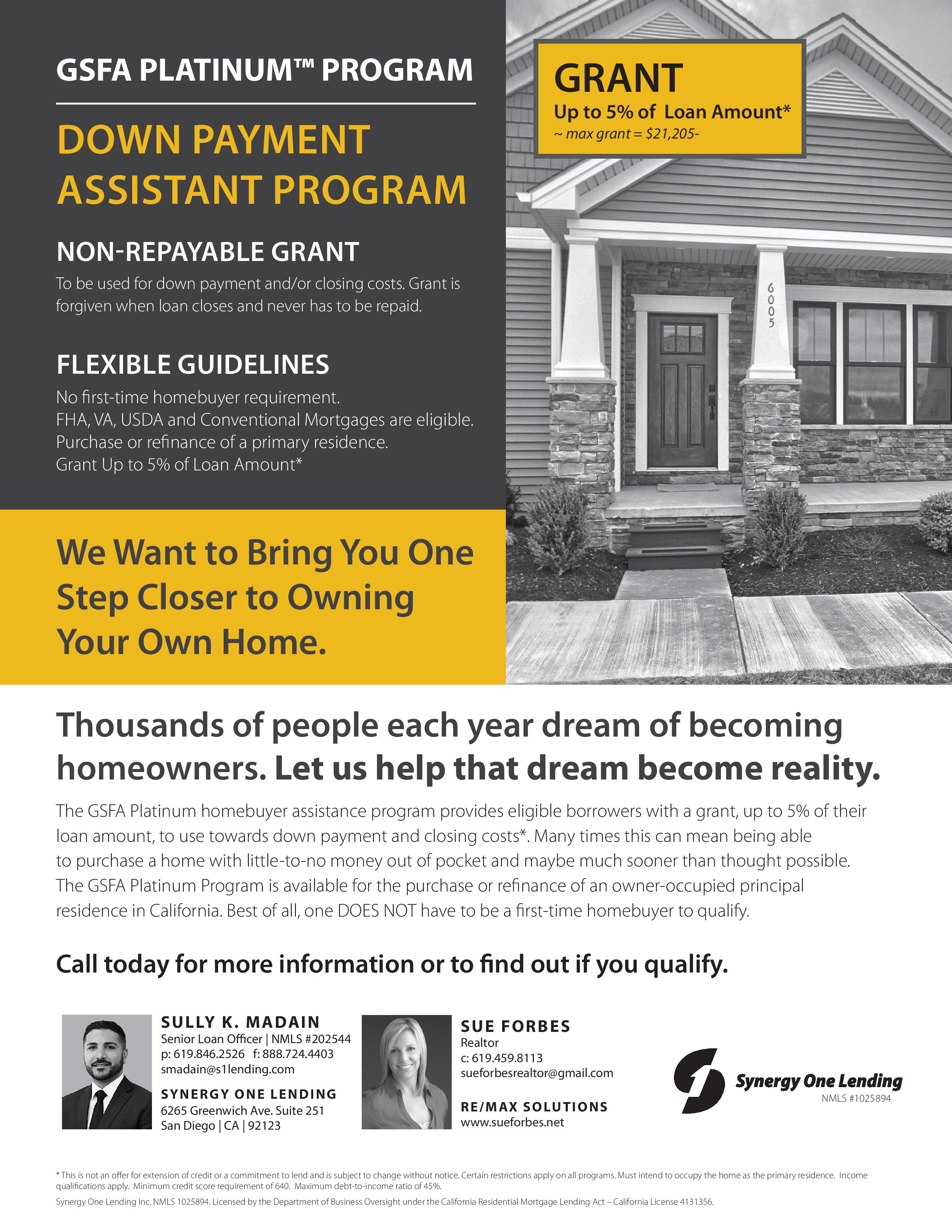 How Does a Homebuyer Qualify for the Program?
First, the homebuyer(s) must meet GSFA's specific qualifying guidelines for the Program which include the following:
Intend to occupy the home as the primary residence;
Qualifying income (total income used to qualify for the mortgage) must not exceed Program Income Limits;
Meet the minimum credit score requirement of 640; and
Not exceed the maximum debt-to-income ratio of 45%.
Second, the homebuyer(s) must apply for the Program through a GSFA Platinum Participating Lender and meet all the qualifying guidelines for the type of mortgage loan being used to finance the purchase of the home.
Conventional, FHA, VA, and USDA 30-year mortgages are allowed. Current interest rates and APRs are available through a Participating Lender. If you're interested in learning more about this program and finding out if you qualify, be sure to contact Sully Madain with Synergy One Lending at (619) 846-2526.
For more information be sure to check out the GSFA page on this amazing program here: http://www.gsfahome.org/programs/dpa/overview.shtml